U.S. News
Paul Manafort pleads guilty, agrees to cooperate with special counsel as part of plea deal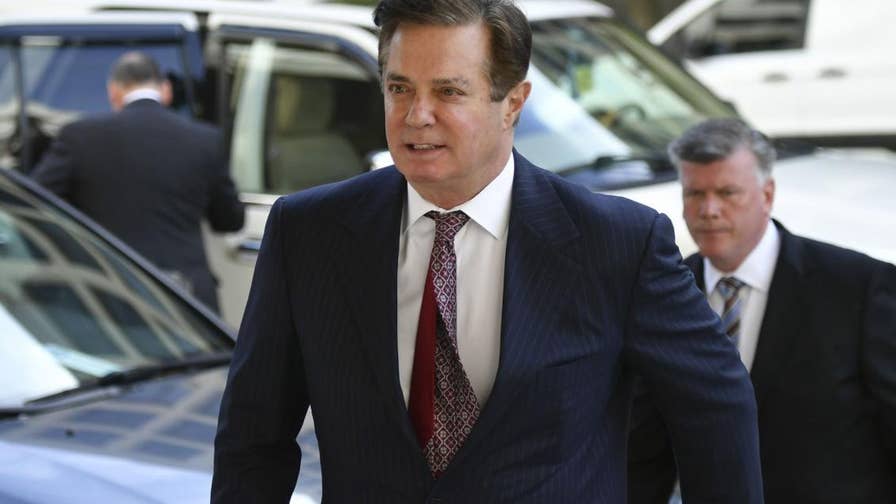 Former Trump campaign chairman Paul Manafort pleaded guilty in federal court Friday as part of a plea agreement that involves cooperation with Special Counsel Robert Mueller.
Manafort's defense told U.S. District Judge Amy Berman that his client would like to enter a guilty plea. Manafort said in court he understands what the guilty plea means and he understands that by pleading guilty he would be giving up the right to appeal.
It's not clear the extent to which Manafort has agreed to cooperate with Mueller but prosecutor Andrew Weissmann told the judge that Manafort's plea agreement includes a cooperation agreement. 
Manafort, in a trial set to begin Sept. 24, had been facing seven counts of foreign lobbying violations and witness tampering in federal court in Washington. 
"Once again an investigation has concluded with a plea having nothing to do with President Trump or the Trump campaign," Trump lawyer Rudy Giuliani said in a statement to Fox News. "The reason: the President did nothing wrong."
The full details of the agreement were not immediately known. But according to Politico, the plea deal includes a 10-year-cap for how long Manafort will be in prison. It also includes allowing Manafort to serve his time for both trials concurrently.
In August, in a separate trial in Virginia, a federal jury found Manafort guilty on eight counts of federal tax and banking crimes.
The case was brought by Mueller's team, which is probing potential crimes related to the 2016 election. But Manafort has not been charged with anything related to the campaign.
In August, Manafort's bank and tax fraud conviction made him the first campaign associate of Trump found guilty by a jury as part of Mueller's probe.
"I feel very badly for Paul Manafort," Trump told reporters after the August verdict, adding that it had "nothing to do with Russian collusion."
Trump also said he had "such respect" for Manafort and called him a "brave man." In comments interpreted to mean he was open to pardoning Manafort, Trump commended Manafort, saying he "refused to break" and "make up stories in order to get a deal."
I feel very badly for Paul Manafort and his wonderful family. "Justice" took a 12 year old tax case, among other things, applied tremendous pressure on him and, unlike Michael Cohen, he refused to "break" - make up stories in order to get a "deal." Such respect for a brave man!— Donald J. Trump (@realDonaldTrump) August 22, 2018
In that trial, prosecutors said Manafort hid income earned from political work overseas from the IRS while fraudulently obtaining millions in bank loans. Manafort, 69, had pleaded not guilty to all counts.
The prosecution's star witness, Rick Gates – Manafort's former business partner who struck a plea deal to cooperate with the government -- testified during the trial that he and Manafort committed bank and tax fraud together.
Manafort attorney Kevin Downing suggested after the guilty verdict that Manafort was open to striking a deal before the second trial.
"He is evaluating all of his options at this point," Downing said of Manafort.
Fox News'  John Roberts, Jake Gibson and NuNu Japaridze contributed to this report.
---