U.S. News
From World War II on, Bush made lasting impact on history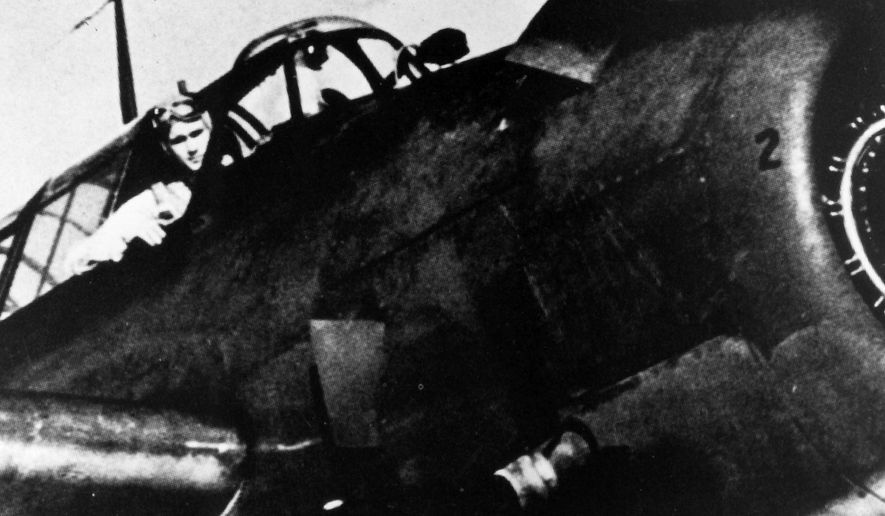 He served in World War II as the nation's youngest Navy combat pilot, surviving a fiery crash over Chichijima in 1944 and earning the Distinguished Flying Cross.
Three decades later, he took the helm at the CIA and steered the spy agency out of an "all-time low" period of upheaval and controversy, providing stability and setting a template for leadership that his successors have followed.
While his most enduring legacy is having been the 41st president of the United States and the patriarch of a towering political dynasty, George H.W. Bush also made an indelible mark as an American warrior, made history with his military service and left a lasting impression on the U.S. intelligence community.
Mr. Bush died late Friday at his home in Houston. He was 94.
His name forever will be tied to the fall of the Berlin Wall, America's victory in the Cold War and the U.S.-led victory over Saddam Hussein's Iraq in the Persian Gulf War of the early 1990s.
But across the military and intelligence communities, officials say Mr. Bush will be remembered for his courage and leadership in the years long before he entered the Oval Office.
"President George Herbert Walker Bush, naval aviator, decorated in his youth for valor in combat, took his experience in war to build a better world as our commander in chief," Defense Secretary James Mattis said in a statement late Friday. "His service to our nation demonstrated how we as a people can draw on our humility, diversity and devotion to our country to meet every challenge with fortitude and confidence. We will miss him, but at the going-down of the day, his example will long guide our sailors, soldiers, airmen and Marines for how to live life without regret."
At 18, Mr. Bush joined the military in 1942, months after the U.S. was thrust into World War II after the Japanese sneak attack on Pearl Harbor. By June 1943, the future president had "earned his wings," as the military puts it, making him the youngest Navy pilot at the time.
Serving in the Pacific theater, Mr. Bush flew torpedo bomber missions off the deck of the USS San Jacinto. In 1944, his plane was hit by anti-aircraft fire that killed two of his crewmen, but he still completed the mission.
Mr. Bush bailed out of the aircraft and was rescued by the submarine USS Finback.
Even after his lifetime of political service, the 41st president maintained that one of his proudest moments was signing up for the armed forces — and he urged young men and women to follow his example.
"Exactly half a century ago we were at war, and I was graduating from school," Mr. Bush said during his January 1993 farewell speech at the U.S. Military Academy at West Point, New York. "The speaker that day at Andover was the then-Secretary of War Henry Stimson. And his message was one of public service, but with a twist — on the importance of finishing one's schooling before going off to fight for one's country. I listened closely to what he had to say, but I didn't take his advice.
"And that day was my 18th birthday. And when the commencement ceremony ended, I went on into Boston and enlisted in the Navy as a seaman 2nd class," he said. "And I never regretted it. You, too, have signed up. You, too, will never regret it. And I salute you for it."
After his military service, Mr. Bush married Barbara Pierce in January 1945, graduated from Yale University in 1948, thrived in the oil business and ultimately entered politics, running for election to the House of Representatives in 1966. He eventually exited Congress to serve as President Nixon's ambassador to the United Nations.
In 1976, Mr. Bush took another job that would help cement his pre-White House legacy. Appointed by President Ford, Mr. Bush took the reins at the CIA just a year after shocking revelations that the agency had spied on domestic anti-war groups and even brainstormed assassination plots against foreign leaders.
Amid broad distrust in government after the Vietnam War and the Watergate scandal, Mr. Bush steered the CIA back on course at a crucial moment in history, restoring some level of public faith in the agency and ultimately leaving a mark as one of its most important directors, despite serving in the post for only one year.
"Though his tenure was limited, his accomplishments were not. Bush joined the agency at a tumultuous time when morale was at an all-time low," the CIA said in a statement over the weekend. "He believed strongly in the mission of the agency, and he believed in the CIA officers serving their nation. As [director of the Central Intelligence Agency,] he immediately established himself as a leader who restored the morale and reputation of the CIA."
Specifically, it was Mr. Bush's broad experience as a war pilot, member of Congress and diplomat that gave him the political gravitas the CIA desperately needed at the time.
"His tenure provided a meaningful and helpful 'calm between the storms' for the agency in the 1970s," the CIA said. "As the first [director] who had served in Congress, Bush had the political influence to reshape the way the agency was viewed among its most important stakeholders — the president of the United States and U.S. policymakers."
---