George H.W. Bush, the 41st president, dead at 94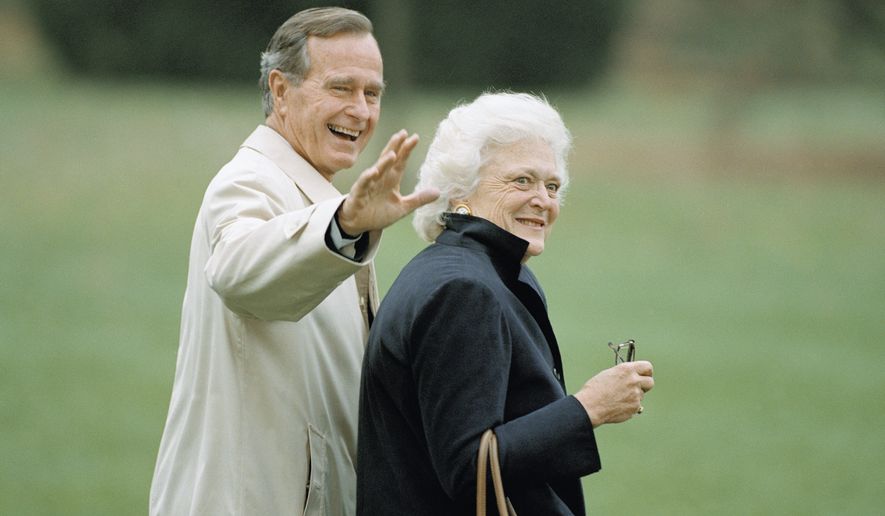 George Herbert Walker Bush, the 41st U.S. president and the man at the center of one of America's most important political dynasties, died Friday night. He was 94.
Funeral arrangements will be made as soon as is "practical," his office announced. He passed at 10:10 p.m. Central time.
Known among his family and closest friends as a quiet, gentle man who would much rather talk than fight, Mr. Bush was among the nation's most decorated war heroes. At one point the youngest member of the U.S. Navy, he flew 58 combat missions during World War II. But his imprint on the nation's history was made equally by an exalted career in politics that spanned the latter half of the 20th century.
Mr. Bush's career in politics began with his election as chairman of the Harris County, Texas, Republican Party. He rose to the U.S. House of Representatives in 1966 and later served as U.S. Ambassador to the United Nations, Chairman of the Republican National Committee, Chief of U.S. relations to China, Director of the Central Intelligence Agency. From 1981 through 1989, he served for two terms as President Ronald Reagan's vice president.
White House Years
The first sitting vice president since 1837 to ascend to the presidency, Mr. Bush was elected into the Oval Office in 1989.
One of a small cadre of the nation's highest-level Cold Warriors, he was known for an obsession with world affairs as well as the strategic management stamp that he had left on the CIA the agency has since named its headquarters the "George Bush Center for Intelligence."
In form, he will likely be remembered for the foreign policy achievements made during his years in the White House, both as Vice President for eight years to Ronald Reagan and later as president four years himself.
"During his term, the Cold War ended; the threat of nuclear war was drastically reduced; [and] the Soviet Union ceased to exist," states the official biography on the website of the George Bush Presidential Library and Museum in College Station, Texas.
Chiefly, Mr. Bush is credited with conceiving and then quietly muscling to the fore a delicate, yet powerful diplomatic effort that pulled Arab leaders and the United Nations together behind the unprecedented 32-nation military coalition that defined the 1991 Gulf War.
The six-week ground campaign is regarded as one of the smoothest in American history, having resulted in only 141 allied casualties and set a precedent for what later became known as a strategy of employing "overwhelming force." The effort ended with an expedient liberation of Kuwait from its Iraqi military invaders along with the strategic destruction of Saddam Hussein's weapons of mass destruction cache.
Away from the spotlight, however, Mr. Bush crafted a humble atmosphere inside the White House. He is fondly remembered as a president who relished in self-deprecation to the point that he once invited Dana Carvey the New York comedian who had built a career out of impersonating Mr. Bush to sleep over in the Lincoln bedroom.
Mr. Bush's reputation as a coalition builder also extended into his dealings with Washington, despite his having been only the second American president to serve a full term without party control in either chamber of Congress.
He signed bill allowing for increased in taxes. While he later said he regretted the move and it scarred him politically in his unsuccessful 1992 run for reelection the development set a tone of bipartisan cooperation many believe helped to shape the domestic political strategies later embraced by Mr. Clinton through the economic boom of the late-1990s.
Mr. Bush's single term also saw the signing of landmark civil rights and environmental legislation in the Americans with Disabilities Act and the Clean Air acts. And, he fought for and negotiated the North American Free Trade Agreement (NAFTA). While controversial at the time, the act has since ushered tremendous economic growth and ties between the United States, Canada and Mexico a three-way alliance now considered the strongest single economic bloc of nations in the world.
Mr. Bush also ushering increased funding for unprecedented drug education and resistance programs in American public schools and, among other things, is credited with expanding the use of the death penalty for particularly ugly crimes, providing the office of the president with a line-item veto and changing the welfare system to require more responsibility on the part of recipients.
Center of a dynasty
Mr. Bush was one of only two American presidents to see his own son rise to the presidency. George W. Bush, who served in the Oval Office for two terms from 2001 through 2009 is now among Jimmy Carter and Bill Clinton as America's three living former presidents.
One of Mr. Bush's other sons, Jeb, served as Governor of Florida from 1999 through 2007. In addition to his political sons, Mr. Bush is survived by three other children: Neil Mallon Bush, Marvin Pierce Bush, and Dorothy Bush Koch. A second daughter, Pauline, was born in 1949 but died of leukemia in 1953.
He is also survived by his wife Barbara, whom he married in 1945, and their 17 grandchildren and one great-grandchild.
After serving as president, Mr. Bush eased into a role regarded by many as "grandfather" not only to a large and powerful political family, but in some ways to the nation itself with Barbara often and fondly considered America's grandmother.
In addition to appearing as a wise fixture within the backdrop of his son's presidency, and at outings to the family's compound in Kennebunkport, Me., he enjoyed his time in retirement. He made headlines by skydiving on at least three of his birthdays.
Mr. Bush also played an admirable and charitable post-presidential role by helping to raise hundreds of millions of dollars for charity, perhaps most notably when presidential son called upon him to work with former President Clinton to raise funds for victims of the Asian tsunami and later Hurricane Katrina in the southeastern United States.
The early years
Born on June 12, 1924 in Milton, Ma., Mr. Bush spent time as a boy in Greenwich, Conn., before attending high school at the Phillips Academy in Andover, Ma.
As the son of Prescott Sheldon Bush, a renown Wall Street banker and two-term Senator from Connecticut, he rose quickly as a student leader, becoming captain of Andover's baseball and soccer teams and president of his senior class. On graduation, he was accepted to Yale, but at age 18 deferred his enrollment so that he could join the Navy.
At the time that he was officially commissioned in June 1943, Mr. Bush was then the youngest naval aviator to date. He served in a torpedo squadron that partook in the Battle of the Philippine Sea, one of the largest of World War II, and later piloted an Avenger aircraft that was shot down of the island of Chi Chi Jima.
On returning from the war, he enrolled at Yale, where he is said to have followed his father's footsteps into the influential and secretive "Skull and Bones" society. He played first base on the Yale baseball team at one point reportedly meeting Babe Ruth before a game and earned a degree in economics, graduating Phi Beta Kappa in 1948.
He and Barbara then moved south, to West Texas, where Mr. Bush worked his way into the oil business before entering politics.
Mementos at his presidential museum show the closeness of the relationship Mr. Bush also kept through the years with his mother, Dorothy Walker Bush. While he rarely crossed her, it is said that he was able only in retirement to have been able to abide by her golden rule against bragging.
Whether her son was a star sportsman at school, a bonafide war hero or the president who won the Gulf War, his mother would scold him for "showboating."
She even reportedly called during his 1988 presidential campaign to complain: "You're talking about yourself too much."
---