U.S. Politics
House Budget Committee rejects amendment aimed at halting family separations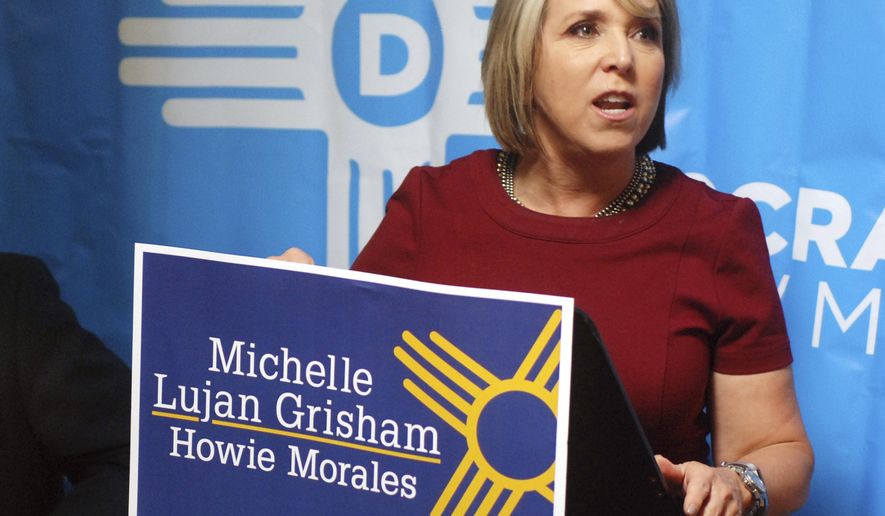 As the full House prepared to consider high-profile immigration legislation Thursday, the House Budget Committee voted down a Democratic proposal aimed at halting the separation of migrant children from their parents at the border — a subject engulfing both Capitol Hill and the White House this week. The proposal from Rep. Michelle Lujan Grisham, who chairs the Congressional Hispanic Caucus, would prevent taxpayer dollars from being used to separate the children from their parents, and calls for Congress to pass legislation to prevent the Department of Homeland Security from forcing the separations except in extraordinary circumstances. "Not one penny of taxpayer dollars should ever be used to inflict pain and suffering on a child in order to punish their parents and push a political agenda," the New Mexico Democrat said. Committee Chairman Steve Womack said the proposal, offered as an amendment to Republicans' 2019 budget resolution, raises an "important dialogue" and serious concerns about immigration policy but doesn't address the federal budget in a "meaningful way."
The proposal from Rep. Michelle Lujan Grisham, who chairs the Congressional Hispanic Caucus, would prevent taxpayer dollars from being used to separate the children from their parents, and calls for Congress to pass legislation to prevent the Department of Homeland Security from forcing the separations except in extraordinary circumstances.
"Not one penny of taxpayer dollars should ever be used to inflict pain and suffering on a child in order to punish their parents and push a political agenda," the New Mexico Democrat said.
Committee Chairman Steve Womack said the proposal, offered as an amendment to Republicans' 2019 budget resolution, raises an "important dialogue" and serious concerns about immigration policy but doesn't address the federal budget in a "meaningful way."
"Rather, it seeks to change immigration policy, which is more appropriate for consideration in the committees of jurisdiction…and for a debate on the House floor," said Mr. Womack, Arkansas Republican.
The committee voted down the amendment 16-9 Thursday.
President Trump on Wednesday signed an executive order addressing the issue, though he also said he expects Congress to follow up and act as well.
The House was scheduled to vote Thursday on a pair of immigration bills, including language that would allow families caught at the border to be held in Homeland Security detention facilities, rather than Justice Department facilities that aren't set up to hold families.
But it's unclear whether either bill will have enough support to pass. Democrats say neither Mr. Trump's executive order nor the GOP-proposed legislation is wide-ranging enough.
The budget committee was entering its second day of considering the 2019 budget plan Mr. Womack had unveiled earlier in the week.
It slashes trillions of dollars from the federal budget over the next decade and aims to reach balance in nine years largely through limiting the growth of entitlement programs like Medicare and Medicaid.
Mr. Womack said Wednesday it's the duty of the committee to produce a budget document each year, and that looming fiscal challenges are casting a "shadow of doubt" on long-term prosperity in the country.
"These are challenges that must not be ignored… they must be overcome," he said. "And in order to do so, tough decisions must be made in the short-term."
Rep. John Yarmuth, the committee's ranking Democrat, said the budget is part of a multi-step GOP plan to slash taxes, lament the ensuing deficits, and demand cuts to social welfare programs to bring things back into balance.
"Like previous Republican budget resolutions, it is not a serious attempt at governing," said Mr. Yarmuth, Kentucky Democrat.
Lawmakers are already more than two months behind schedule. Congress is supposed to approve an annual budget by April 15th each year, though that target hasn't been met in 15 years and there's no real penalty for blowing through it.
The committee was aiming to finish marking up the 2019 budget resolution on Thursday.
But it's still unclear whether it would get a vote on the House floor, or if the Senate budget panel will follow suit.
Senate Budget Committee Chairman Mike Enzi says he's working on his own 2019 budget plan, but that there's less urgency to get one done since a two-year budget deal passed earlier in the year already set spending levels for next year.
---