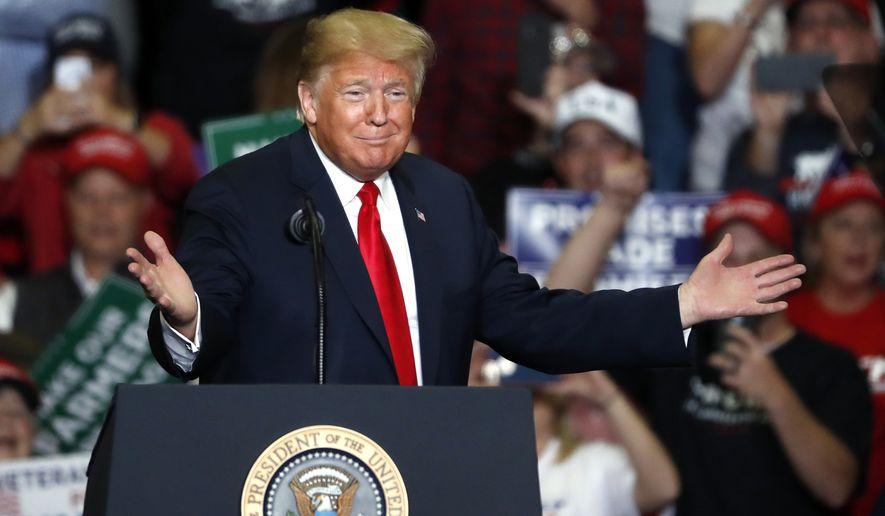 When the country reeled from a deadly synagogue shooting and a package bomb scare last month, President Trump pledged to "tone down" his harsh rhetoric on the stump — but his rally crowds wouldn't let him.
Mr. Trump was left wondering whether he would be able to soften his tone for the next two years and the 2020 re-election race, when he might need a lighter touch to win over independents and shore up soft support from 2016.
The thousands packing his midterm rallies in the immediate aftermath of the shocking crimes clamored for Mr. Trump's trademark attacks on political foes.
They broke out in chants of "lock her up" at the mention of Hillary Clinton and "CNN sucks" when he called out the news network, despite both being among the more than a dozen targets of package bombs purportedly mailed by Cesar Sayoc, a deranged Trump supporter.
Mr. Trump refused to disappoint the rally crowds, having the most consequential midterm election in a generation to worry about. He also says he worries that playing nice would risk him getting "swamped" by the fierce opposition on Capitol Hill and in newsrooms across the country.
But in a rare self-critique, Mr. Trump told Sinclair Broadcasting Group that he regrets the harsh tone of his first two years in office.
"I would like to have a much softer tone. I feel to a certain extent I have no choice, but maybe I do," the president said.
Maybe things will be different after the midterms.
"I would love to get along, and I think after the election, a lot of things can happen," he said. "But right now they are in their mode, and we are in our mode. And you know if you're criticized you have to hit back, or you should."
Mr. Trump credits his pugilistic style with getting him to the White House and accomplishing much of his ambitious agenda.
But as the 2020 race kicks off, Mr. Trump must decide whether the harsh rhetoric is still a winning formula or a softer tone is needed to attract crucial independent and cross-over voters.
"It is very important. I understand that fear and anger motivates voters but the problem with his tone — and I'm being objective about it — is that it is divisive," said G. Terry Madonna, director of Center for Politics and Public Affairs at Franklin & Marshall College in Lancaster, Pennsylvania.
Mr. Madonna closely analyzed Mr. Trump's appeal to Pennsylvania's blue-collar voters that managed to swing the state Republican for the first time since 1988.
"He can motivate them and hold onto them by talking about the economy, by talking about bringing jobs back to those people and just avoid the divisive rhetoric," he said. "The bottom line is — and I don't think he'll do it — the rhetoric needs to be toned down."
Some of Mr. Trump's most zealous supporters say they relish his raucous persona while saying it is not why they flock to him.
"I absolutely love it. You know why — because he's not a politician and what he says is what most people are thinking. That's why he was elected in the first place," said Brian McKenna, 72, who was wearing a "Trump 2020" cap at one of the president's rallies last week in southwest Florida.
The retired New York cop didn't care whether Mr. Trump cooled the fiery rhetoric in 2020.
"I love the job he is doing. The rhetoric is meaningless to me," Mr. McKenna said. "It's a sin that [the news media] can ignore everything he does."
Ford O'Connell, a Republican strategist closely aligned with the White House, said Mr. Trump is someone who will do whatever is needed to win, including changing his tone. That might not be necessary, though.
"A big part of his brand has been his fiery rhetoric, and I think there is a portion of his supporters that do expect that," he said. "Obviously, it does rub some independents the wrong way. But what we noticed is that independents also seem to care a little bit more about results than the package they come in."
Just before Tuesday's election, an ABC News poll showed Republicans making significant gains with independent female voters.
That key demographic split evenly — 43-41 percent — among Democratic and Republican House candidates in the survey, erasing a 33-point Democrat lead in October.
"The reason is that they don't like it when people aren't delivering results," Mr. O'Connell said. "The president will make the judgment call on whether he has to moderate his rhetoric at all. But if he continues to deliver on his promises, chances are he will be the favorite to win re-election."
---